ADHD and learning
http://inclusive.tki.org.nz/guides/attention-deficithyperactivity-disorder-adhd-and-learning/
Attention-deficit/hyperactivity disorder (ADHD) is increasingly common. Between 2–5% of children have ADHD. At least half of those also have dyslexia. 
Students with ADHD are often energetic, creative, and good problem-solvers. They need support with sensory integration, thinking, and social interaction.
This guide focuses on areas for specific support and on whole-class strategies that benefit all students. Links to in-depth resources and specialist support services are included.
Information about attention-deficit/hyperactivity disorder (ADHD)
Attention-deficit/hyperactivity disorder (ADHD) affects students' learning in a range of ways. Students with ADHD are likely to need support developing learning strategies and communication skills to manage hyperactivity, impulsiveness, and inattention.
Presentations of ADHD
Attention-deficit/hyperactivity disorder (ADHD) is a lifelong neurological condition that affects the way the brain receives, processes, and responds to information, causing inattention, hyperactivity, and impulsivity.
There are three presentations of ADHD:
Mostly Inattentive – students need support with: organising and completing tasks, following instructions or conversations, and attending to detail.

Mostly Hyperactive-Impulsive – students need support with: speaking at appropriate times, waiting their turn, listening to directions, and thinking before they act.

Combined (inattentive and hyperactive-impulsive).
Presentations of ADHD
ADHD described (video)
ADHD described
Overview
ADHD appears to run in families, which suggests that it may be at least partly genetic.
It is a developmental disorder, which means that symptoms are present from before seven years old. ADHD is often seen alongside other developmental disorders such as dyslexia.
It is more frequent in males than in females, with a ratio of approximately 2:1 in children (Polanczyk et al. 2007). Females are more likely than males to present primarily with inattentive type ADHD.
Overview
Indicators of ADHD
When the signs below are significantly more pronounced in one child compared to other children of the same age, and when their behavior undermines school and social life, the child may have ADHD. A full medical/psychological assessment is required for proper diagnosis.
Inattention:
difficulty sustaining attention in tasks and play
appearing not to listen when spoken to directly
difficulty organising tasks and activities
distracted easily.
Hyperactivity:
restless and overactive
talking constantly
interrupting others frequently.
Impulsivity:
difficulty waiting for their turn in play or conversations or standing in line
blurting out responses before questions have been completed.
Indicators of ADHD
Positive attributes
Attributes will vary from student to student, but may include:
high energy, a good leader, entrepreneurial

creative, thinks outside the square, a problem solver

intuitive, insightful, enterprising

tenacity

warm-hearted, always supporting the 'under-dog'

super sensitive, enabling empathy in most

ability to take chances, risks

good sense of humour, the life of the party

strong sense of justice for all

can hyper-focus on favoured activities, computers, computer games, sport etc

does well in the arts, acting, music, singing and songwriting, comedian
Positive attributes
ADHD and giftedness
Identifying twice exceptional (2E) students
Using traditional methods of identification gifted learners with ADHD typically score "average" in standardised achievement tests.
Average scores often mask peaks and troughs in performance (i.e., both special abilities and disabilities) – look at the strengths of 2E learners separately from their weaknesses, rather than averaging their scores.
Significant discrepancies across test categories often indicate a learning disability, with scores from oral responses typically being much higher than scores from written responses.
Teachers can identify gifted learners who have learning disabilities by examining their behavioural profiles.
Recognising and nurturing the gifts and talents of gifted learners with ADHD is likely to require the involvement of specialist teachers and assistive technologies.
Twice-multi exceptional learners on the Gifted and Talented Education TKI website provides more-detailed information.
ADHD and giftedness
A description of the predominant signs of ADHD you may see in children and young people at different age levels. A complete checklist of signs of ADHD at different ages can be downloaded.
Guidelines published in July 2001 by the Ministry of Health.
A description of the characteristics of ADHD and information on the similarities between dyslexia and ADHD, from SPELD New Zealand.
Students describe having ADHD (video)
Students describe having ADHD
Supporting executive functioning
Students with ADHD may need support with executive functioning. These are cognitive processes that have to do with managing self and resources in order to achieve a goal. They include:
activation – organising, prioritising, and starting work
focus – focusing, sustaining, and shifting attention
effort – regulating alertness, sustaining effort, and processing speed
emotion – managing frustration and regulating emotions
memory – utilising working memory and accessing recall
action – monitoring and self-regulating action.
In ADHD the normal development of executive function is delayed. Developing or improving executive functioning may take many years. For some people it may never happen.
Supporting executive functioning
Challenges and teaching approaches (image)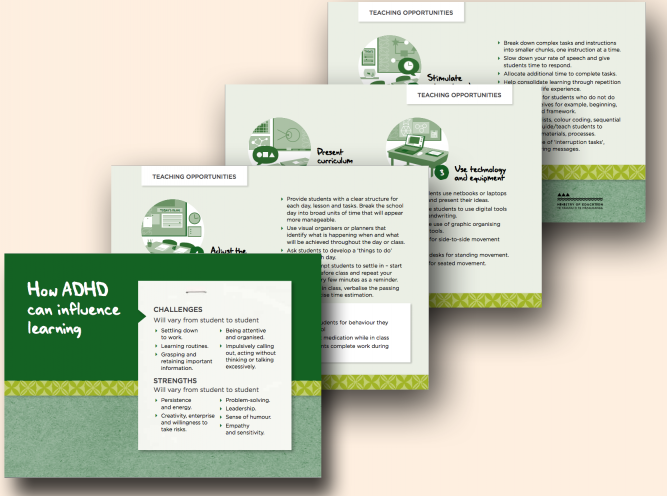 Challenges and teaching approaches
ADHD and dyslexia
ADHD and dyslexia can occur together but they do not cause each other. Dyslexia is a language-based learning disability characterised by difficulties with accurate and fluent word recognition, spelling and reading. People with dyslexia have problems discriminating sounds within a word or phonemes, a key factor in their learning difficulties.
Co-occurring ADHD and dyslexia needs a specific assessment and evidence-based learning strategies.
Support for students with ADHD and dyslexia may cover:
teaching structured comprehension strategies and focusing on developing fluency to support comprehension

providing different types of reading material, for example, graphic novels and online texts with verbal support to support sustained engagement

strategies to support self organisation and proofreading

digital text as an alternative to handwriting.
ADHD and dyslexia
Understanding focus and concentration (video)
Understanding focus and concentration
Identifying needs and strengths, and accessing support
Get to know the student and take an evidence-based approach to identifying where they need support. Work in partnership with the student, their whānau, and those with expertise and experience.
Sample learner profile (image)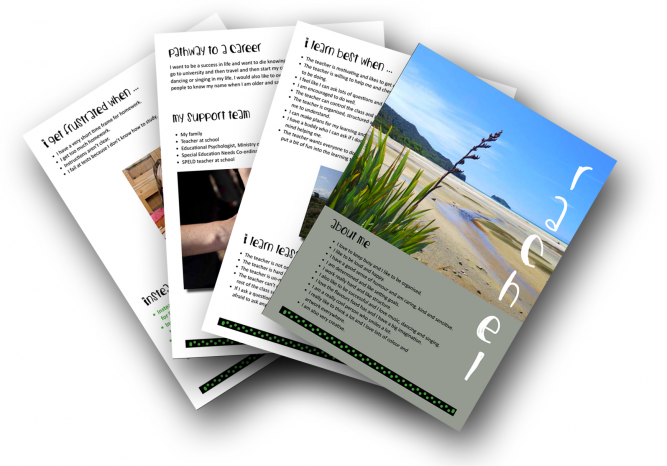 Sample learner profile
Benefits of learner profiles
It's useful to develop a profile of all of your students, and to use this as the basis of a class profile.
A learner profile tells teachers about students. It sits alongside assessment data. It helps school staff to build relationships with students and to understand things from a student perspective. This can inform planning, classroom layout, timetabling, and supports to enable students to participate and contribute in all classroom learning.
Developing a learner profile means your students can:
express who they are
address assumptions
express their aspirations and passions
have a say in what goes on for them.
Senior students may prefer to just have a conversation. Take time to get the student's views of what will support their learning.
Benefits of learner profiles
What to include in a learner profile
The purpose of a learner profile can be agreed by the student, their whānau, and the teacher.
Depending on its purpose, a useful profile (whether an official document or simply inquiry on your part) can include:
important people

cultural connections and experiences

languages spoken

things the student is good at

memorable life experiences

how they like to unwind and relax

likes and interests

dislikes and things they avoid

how they like to learn and what helps

things that make it hard for them to learn

what they do when they need help.
What to include in a learner profile
Surveying students
In the video Student Profiles, Canadian secondary teacher Naryn Searcy describes how she asks students about how they learn most effectively. She also asks students what is important to them beyond school.
She uses this information in her planning:
"I personally do a survey at the beginning of every class every semester, just everything from personal background to their history in the subject area to things they like to do outside of school, usually put a whole bunch of activities down there that we would potentially do in the class and ask them to rank it, you know what would you enjoy doing, what would you not like doing.
So just to get an idea of who is in the classroom to begin with and what they would benefit, or what they want to see in the class, what would work for them."
Surveying students
Most effective when used together
ADHD can be familial (image)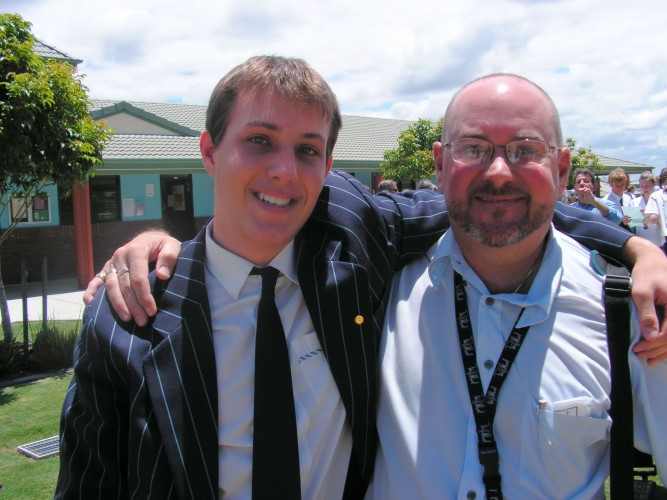 ADHD can be familial
Suggestions for working with parents
Suggestions for working together with parents, caregivers and whānau
Communicate and share information in a meaningful way, demonstrating understanding and support for parents' concerns.

Value what parents and caregivers have noticed or assessments they have had done outside school.

Involve parents and caregivers in determining strategies to support student learning and well-being.

Work with any programmes or materials they are using at home, to maximise consistency and support for the student.

Develop systems for passing on information about a student's needs, progress and next steps in ways that are meaningful.

Share information about out-of-school programmes (for example, classes or groups for music, art, debating or sport).

Actively and regularly communicate positive information and achievements to the family.
Suggestions for working with parents
Managing medication
Some students with ADHD take medication. They will have a medication plan that sets out when and how much medication they must take at school.
Read your student's plan and keep it handy.

Know your role in helping your student to take their medication. Know, for example, whether you need to prompt them to take it and how you will do that. You may need to arrange safe storage for the medication.

Learn to recognise when the medication has worn off or if it is causing side effects.

Provide a private place for your student to take their medication.

Do not disclose medication use to other students without permission.
Managing medication
Questions to ask parents
Connect with the family to understand the strengths and needs of students
Practical elements:
the language/s spoken at home
medications and allergies
equipment used at home
what they do at home to support learning.
Student's likes and dislikes:
likes, interests, what they're good at, need help with, can do independently
dislikes, what can upset them, how they express this, calming skills
favourites (TV programmes, hobbies, books, songs, sports).
The people in the student's life:
parent and whānau hopes and priorities
important people in the student's life
best methods and times to communicate with the family
professionals working with the family
questions they have and support they would like from the school.
Questions to ask parents
Include families in the learning process by inviting them to view updates to their child's Seesaw journal. Built-in translation tools help Seesaw posts cross language barriers.
A booklet published by the Ministry of Education to help parents of students with additional needs to brief their child's school.
A communication app for the classroom. It connects teachers, parents, and students who use it to share photos, videos, and messages through the school day. Use ClassDojo to work together as a team.
Using e-Portfolios at Onslow College (NZ) (video)
Using e-Portfolios at Onslow College (NZ)
Working as a team
Suggestions for an effective partnership with the learning support coordinator and RTLB
Share your concerns, questions and ideas.

Take an inquiry approach: discuss assessment approaches, evaluate assessment data together, and consider possible strategies and approaches.

Meet together with the student and whānau and take a team approach to planning and providing support.

Find out about other staff members who have experience of teaching students with ADHD, or a personal experience of ADHD, who might be happy to advise you.

Ask about recommended resources and online communities.
Working as a team
Teaching as inquiry
Be a learner as well as a teacher
Inquire into and reflect on the impact of your practice and actions.
What is important (and therefore worth spending time on), given where my student is at?

What strategies (evidence-based) are most likely to help my student to learn this?

What has happened as a result of my teaching and what will I need to do next?
Teaching as inquiry
The effects of medication
The use of medication for ADHD can be a sensitive issue. Parents need teacher support for their decisions on medication.
Be informed about the effects of medication. Understand possible side effects so you know when to alert parents. Medication may at times need be reviewed.
Medication can:
decrease impulsivity, task jumping, and aggressiveness
increase compliance
improve handwriting and fine motor skills, peer and adult-child relationships, and short-term memory. 
Medication won't:
increase intelligence
improve reading unless attention is the major issue
change a child's personality
cause drug dependency.
Side effects:
loss of appetite/mild weight loss
insomnia
tearfulness, being withdrawn or clingy (these could be signs that medication needs adjusting)
tics – when Tourette syndrome is in family
rebound behaviour – discuss with professionals.
The effects of medication
New Zealand organisations
There are a number of New Zealand resources and organisations that provide support for people with ADHD, as well as advice for teachers and families.
New Zealand organisations
A Ministry of Education fund available to keep students engaged in learning following a significantly challenging behavioural event. It gives funding for a short term response while a more comprehensive intervention plan is devised.
Information from the Ministry of Education about services and funding available for students when the need for additional learning supports is identified for learning, behaviour and/or social communication, vision, hearing, mobility, or communication needs.
A list of national organisations that support students with additional needs and their families, compiled by the Ministry of Education.
Using whole-class strategies to support students with ADHD in years 1–6
Take a look at your classroom, including your teaching strategies, materials and the ways you construct learning tasks. Consider how it feels and works for your students who have ADHD.
Using whole-class strategies to support students with ADHD in years 7–13
Take a reflective look at your classroom, including your teaching strategies, assessment processes, materials and the ways you construct learning tasks. Consider how it works for your students who have ADHD.